Happy holidays from The Mazer Group, and welcome back to our latest Newsletter.

In this special holiday edition, we chat with Boston media maven, Sue Brady, get some expert wine gifting advice, as well as a glimpse at a hot new luxury listing!
Sue Brady's voice and off-beat, tell-it-like-it-is style has been making us laugh since the turn of the Millenium. The radio personality and writer uses her voice for more than just on-air bits.

Sue Brady is a champion for children, cancer patients, and the homeless. We were lucky enough to grab a few moments of this kind, down-to-earth, and incredibly cool-chic talent. Here's what she had to say.
1. You have been a constant (and successful) voice in the Boston community. What keeps you anchored to New England and not drawn to the flash and fame of California?
Boston is the only thing I've known. It's my comfort food, my mac & Cheese! Every now and then you get a bad batch, but it is worth ordering again. I love this small incestual community! Everyone knows everyone! And then there's that truthful acrid New England attitude. I wouldn't have it any other way!
2. You have a gift for mixing humor while also raising awareness for several causes. How old were you when you realized you were funny? Was there a friend or family member who contributed to this trait?
I come from a family of artists, brilliant professors, and incredible educators. With great talent often comes brokenness and mental illness. Part of finding comfort from the dysfunction was to use humor to mask pain.
3. You work with many worthy charities. The Boston Rescue Mission is one of those causes to which you devote Saturday mornings and your heart. How did you get involved, and why is it an imperative commitment 365 days a year?
I have worked a lot with the homeless, including mentoring in the "Back On My Feet" program, which creates accountability through running. There was some cross-over, and I was invited to the Mission. I literally fell into the program seamlessly. I served dinner, helped the women get settled for bed; it felt right.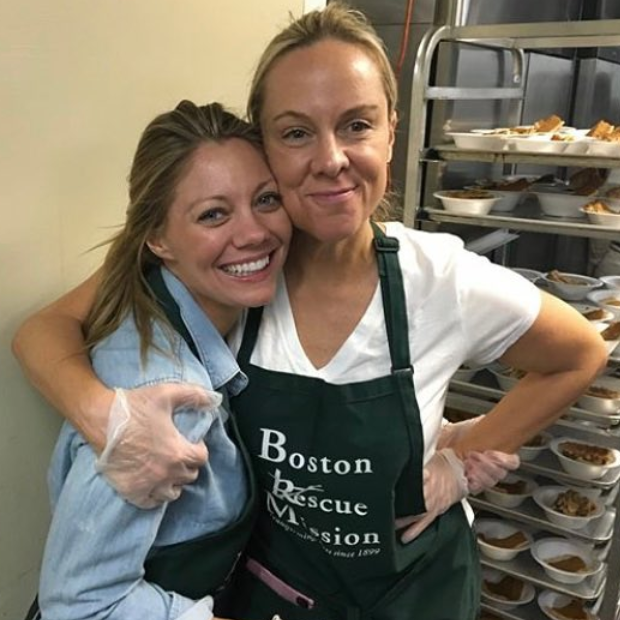 One night I saw an old boss in line for a meal. The stigma there is a difference between "us," and the homeless is an illusion. Addiction, divorce, gambling, an illness- one big life bump, and anyone of us could be there.
We've all lost the ability to be heard or seen at one time or another. Life is about showing up when others need help. You do it for a friend who is going through shit. You might not know what to do, but you show up. This isn't any different.
When a Mission regular asks if I'll be at the reach-out program on Saturday morning, I say, "Yes, I'll be there." Because knowing someone cares and will be there to zipper their coat and hug them gives them at least once constant they can depend on in their lives. Showing up is the easy part; you just do it.
4. What would you like to find under your tree on Christmas morning? 
No f-bombs flying out of my children's mouths when they're opening their presents.
5. Where can people go to stay up-to-date on all things, Sue Brady?
I love social media. I don't have it all together, and it's fun to put that out for others to see. Follow me on Instagram to see bits of my crazy life!
Donate to the Boston Rescue Mission HERE. Read more about the Mission in the Compass Cares section of our Newsletter.
437 D St, Unit 5C Boston, MA 02210


2 Bedrooms / 2 Full Baths

1,401 Sq. Ft. / $1,295,000


Click HERE to view the complete listing for 437 D Street, Unit 5C.
99 Broad Street, Unit 6E Boston, MA 02110

1 Bedroom / 1 Full Bath

759 Sq. Ft. / $749,000


Click HERE to view the complete listing for 99 Broad Street.
Attending a holiday party is a blast, planning one can whip the calmest person into a frenzy. Don't fret! Event-planning genius, Julie Freed, has a few simple tips to help you throw the perfect holiday soiree!
Are you looking to plan a dream event? Visit FreedEventsLLS.com and discover how Julie can help you create an unparalleled affair.
Our listings get noticed! Read more about some of our premium listings in the Boston press.
| | |
| --- | --- |
| | The Boston Business Journal recently got the scoop on our beautiful at 20 West Cedar Street. This isn't the first time this luxury residence has made the press. This expertly renovated stunner also ended up on a recent Boston Magazine list of five beautiful Beacon Hill homes currently for sale. |
Providing meals, a warm bed, and emotional support to those in need is a 365 day a year commitment. The Boston Rescue Mission has understood and assumed this duty for over 200 years. The Mission helps recovering addicts stay clean, gives homeless veterans shelter and encouragement, and provides meals to hungry families at risk of homelessness. The organization not only understands the need for this civil service but also the importance of doing it with compassion and dignity.
| | |
| --- | --- |
| | While the Mission carries out these efforts year-round, it's sometimes not until the frigid air hits, and the days are short that we actually see the homeless. Looking at a fellow human being sleeping on a cold sidewalk under old coats and old moving blankets drives home the importance of the Mission's work. |
Just $33.75 provides 15 hot and nutritious meals. Please, help to make someone's life a little better.

Change someone's life today!
251 Marlborough St, Unit 2


Boston, MA 02116

2 Bedrooms / 2 Full Baths, 1 Half Bath 1,503 Sq. Ft. / $2,485,000


Click HERE to view the full listing for
Boston's most award-winning wine shop, known for its curated wine, spirits, beer, and exceptional service (um, they gift-wrap, deliver, and ship), gives us their thoughts on the perfect holiday gifts.
Best Hostess Gift When You're Crunched for Time
| | |
| --- | --- |
| | Short on time but need to find the perfect hostess gift? Double park outside of UG and grab their December "Deck the Halls" Urban Sampler. For $100. This little treasure holds an"all-in-the-family" Champagne, an acclaimed organic Sancerre, an up-and-coming red Burgundy, and an elegant Bordeaux. This festively decorated grab-and-go four-pack of wine is a lot of bang for the buck! No time to wrap? Hey, check out the festive decorations! |
Best Product for Your "Shop Local" Friend
| | |
| --- | --- |
| | Amazon makes the holidays easy with one quick click. But if you want to be personal and shop local, you can't beat the Rum Cooperative! Volume 2 from Bully Boy Distillers, $38. The brothers behind local spirits maker Bully Boy have sourced different rums from around the world and blended them together at their distillery in Newmarket. Volume 2 is the second in the series and any shop local aficionado will love this collector's edition bottle! |
Best Way to Drink Pink 365 Days of the Year
| | |
| --- | --- |
| | For those in the know, rosé season isn't over. The best way to drink pink all yea is to invest in quality rosé Champagne. UG's pick (and the house Champagne of owners TJ and Hadley Douglas) is the NV Pierre Paillard "Les Terres Roses XIV" Grand Cru Extra Brut, $68. Perfect for sipping but equally delicious with holiday meals (Peking Duck, Tenderloin, Seven Fishes!). This is an exceptional sparkling wine for all occasions. |
Best Way to Impress a Whisk(e)y Lover
| | |
| --- | --- |
| | Japanese Whisky is the brown spirits trend that just won't quit. UG is known for its selection of hard to find whiskeys (from every region, not just Japan!). Their current Japanese favorites are the Kujira 8 Year Single Grain Ryukyu Whiskey, $175, and the Kujira Ryukyu 20 Year Bourbon Cask Whiskey, $375. Relatively new to the market, these two whiskeys from Okinawa, Japan will win you major points for the most unique gift of the year. |
Best Cabernet for the Napa Cab Collector
| | |
| --- | --- |
| | If you love someone who loves Napa Cab, it can be nearly impossible – and cost-prohibitive – to find them a bottle from back vintages. The Urban Grape has a small stockpile of 1988 Spring Mountain Cabernet Sauvignon, $225, which they count as among the best older vintage wines from the region that they've ever tasted. Drinking superbly right now, you'll want to gift this bottle and then stick around to drink it! |
Best Gift for the Person Who Has Everything
Experiential gifts are all the rage! Do you have a wine-lover on your list who has everything? Gift them a two-hour wine cellar consultation with UG owner TJ Douglas. Over a personalized wine tasting for two, TJ uses his decades-long wine industry experience to help your giftee fill his/her cellar with everything from approachable everyday wine- to birth year vintages- to investment cases. The $300 consultation fee comes with 20% off of the first order!

Email tj@theurbangrape.com to arrange this unique gift. 
The Urban Grape in the heart of Boston at 303 Columbus Avenue, right behind Back Bay Station. You can also shop their selection online at www.theurbangrape.com. UG has full local delivery options and national shipping capabilities, making them THE choice for personal and corporate gifting this holiday season!
The weather may be cooling down, but the real estate market is still hot. Home prices are lowered to this time last year, while days on market have significantly increased. Get a closer look at the Back Bay real estate market below.
Follow-us on social media for market insights and photos of real estate eye candy.