When introducing this Luxury Listing at 53 N Mill Street in Hopkinton, MA, we probably should lead with the fact that the Hopkinton Schools consistently rank among the best in the state. Or, maybe it would make more sense to walk you through a description of the bucolic and pristine Neighborhood in which the 7,319 square foot home resides.
But, what do we use as the headshot for this custom-built, opulent home? How about the walk-in closet that looks like someone used a wish from a genie-in-a-bottle to create it.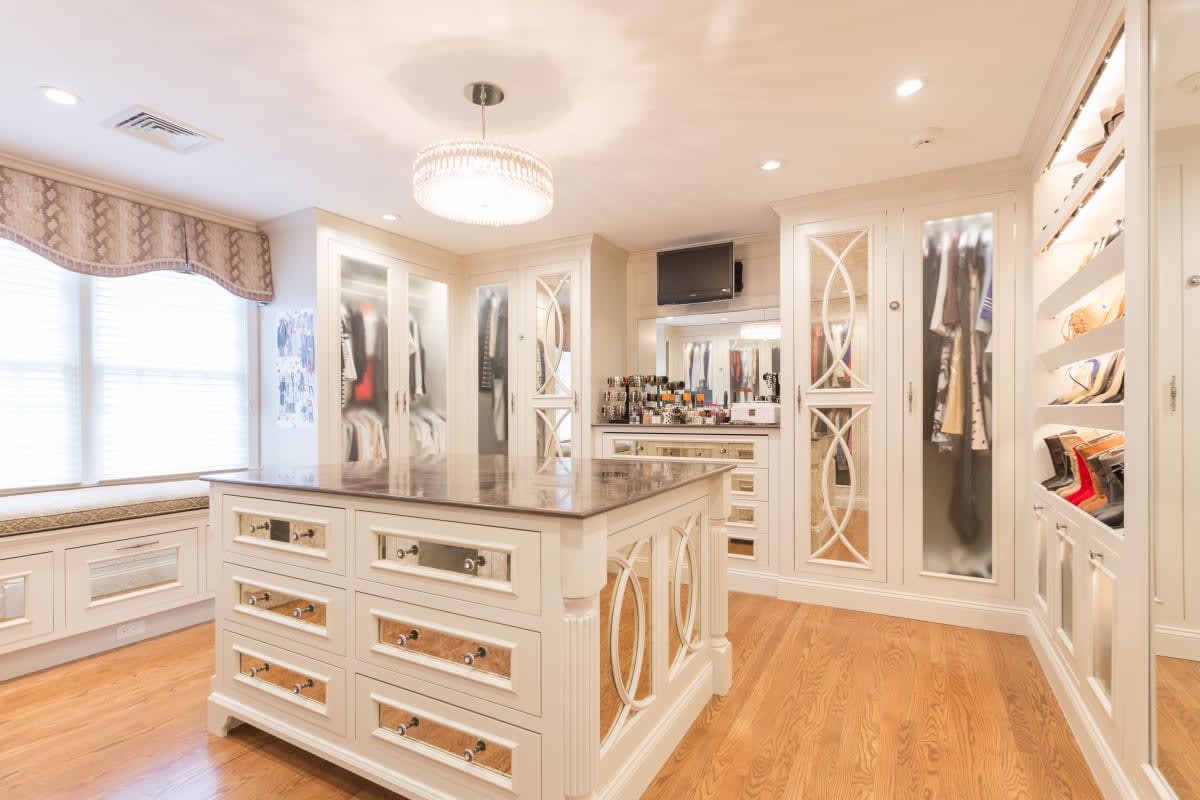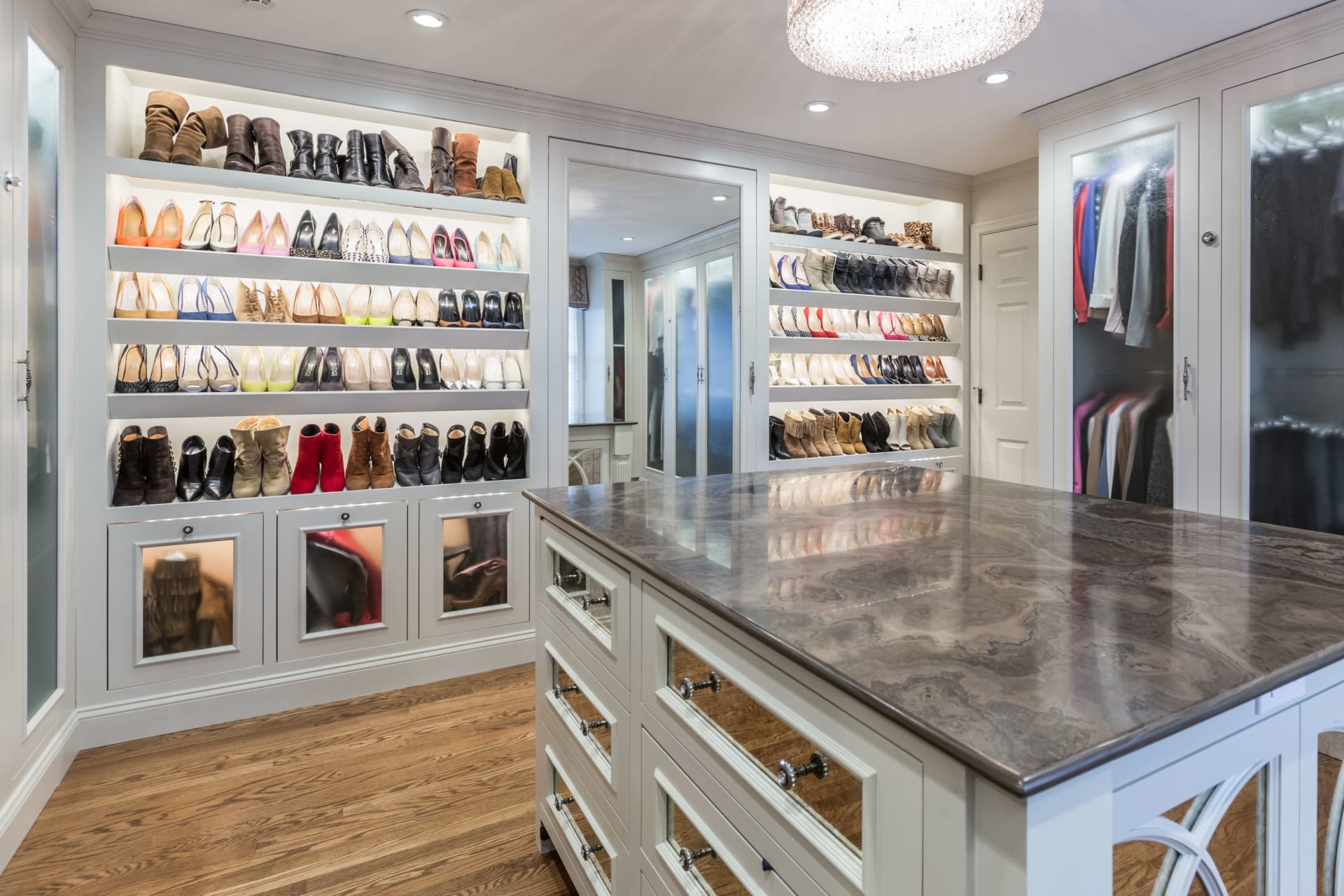 To die for right? We tried really hard to refrain from any Carrie Bradshaw references, but apparently not hard enough. So, here it goes! As Carrie said, "I like my money hanging where I can see it; right in my closet!" We'll always love you, Carrie!
And, just when you thought this closet couldn't get any better, it throws on a pair of the Louboutins and starts tap dancing. Ready for this? There's a beverage fridge on the folding island! We could see ourselves filling it with wine, champagne, and a couple of tequila infusions, whatever floats our happiness boat! With the beverage fridge, TV, and sweet window bench we envision idling away the day in this clothes horse's heaven.
That is of course only after we've bathed and primped in the primo master bath.
Calming colors and luxurious details qualify this master bath as a powder room fit for a movie star. Radiant floors take any chill out of the artistically tiled marble. And, can we just talk about that vanity and massive glass-enclosed shower? Drop a disco ball in this bathroom and we have a party!
Honestly, we did lead with the closet, well because we love it. But, if you really want to see where the bells and whistles are in this five-bedroom home, all you need to do is head to the heart – the kitchen.
Gourmet appliances (er, um Wolf, Miele, and Subzero just to do a little name dropping), double refrigerators, warming drawers, and drawers that serve as wine and beer coolers are just part of what makes this kitchen any chef's dream. Add the visual of coffered ceilings and TWO islands large enough to perform any culinary task making this kitchen an entertainer's delight!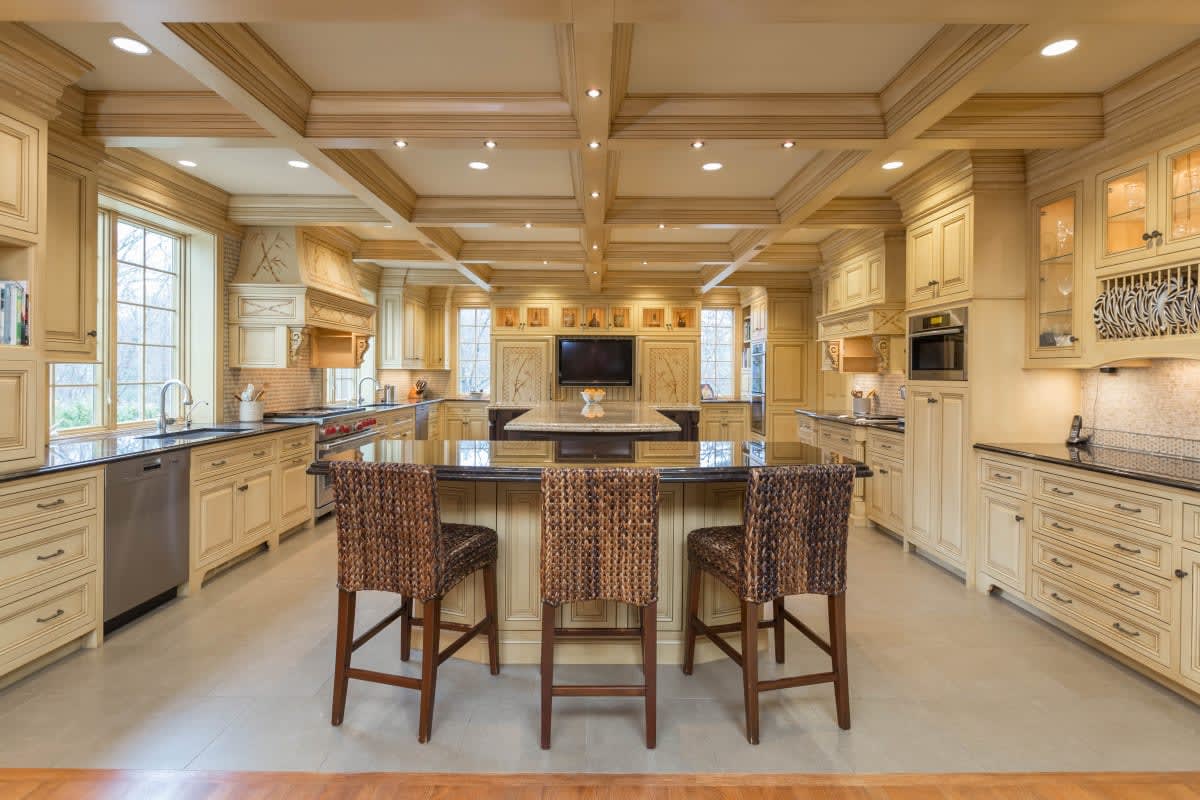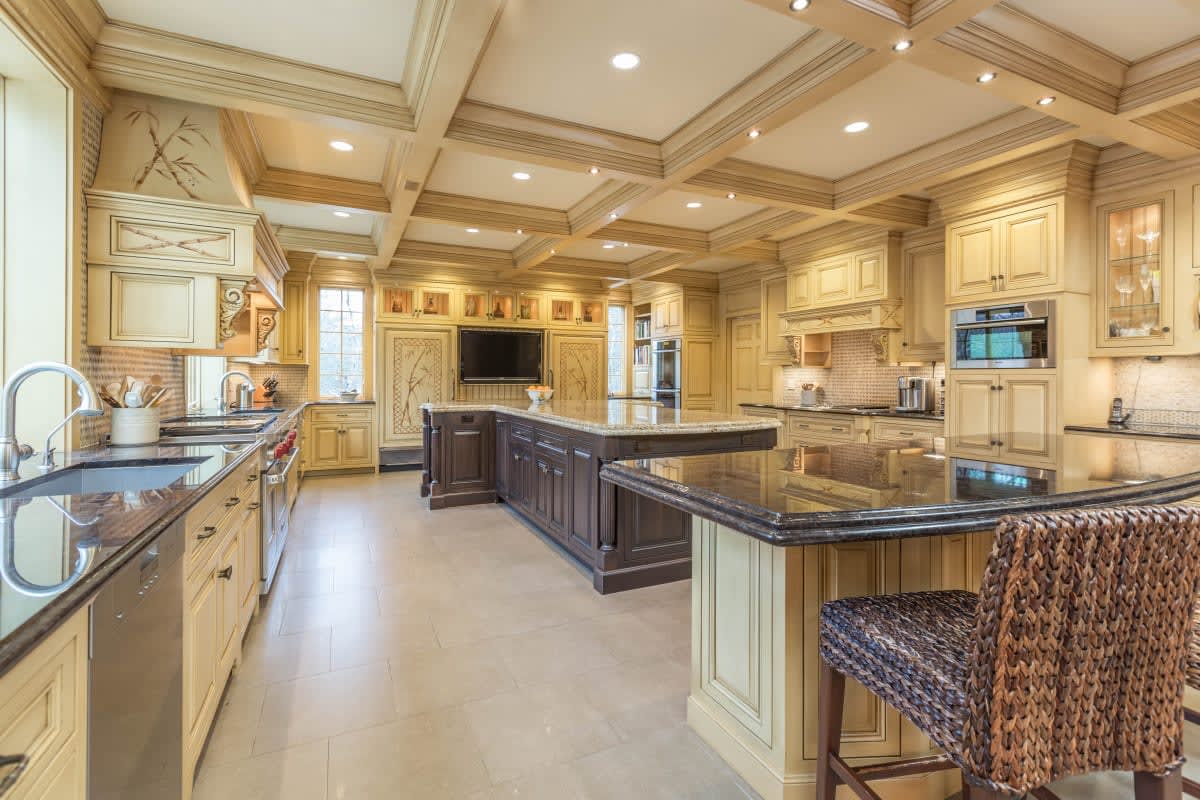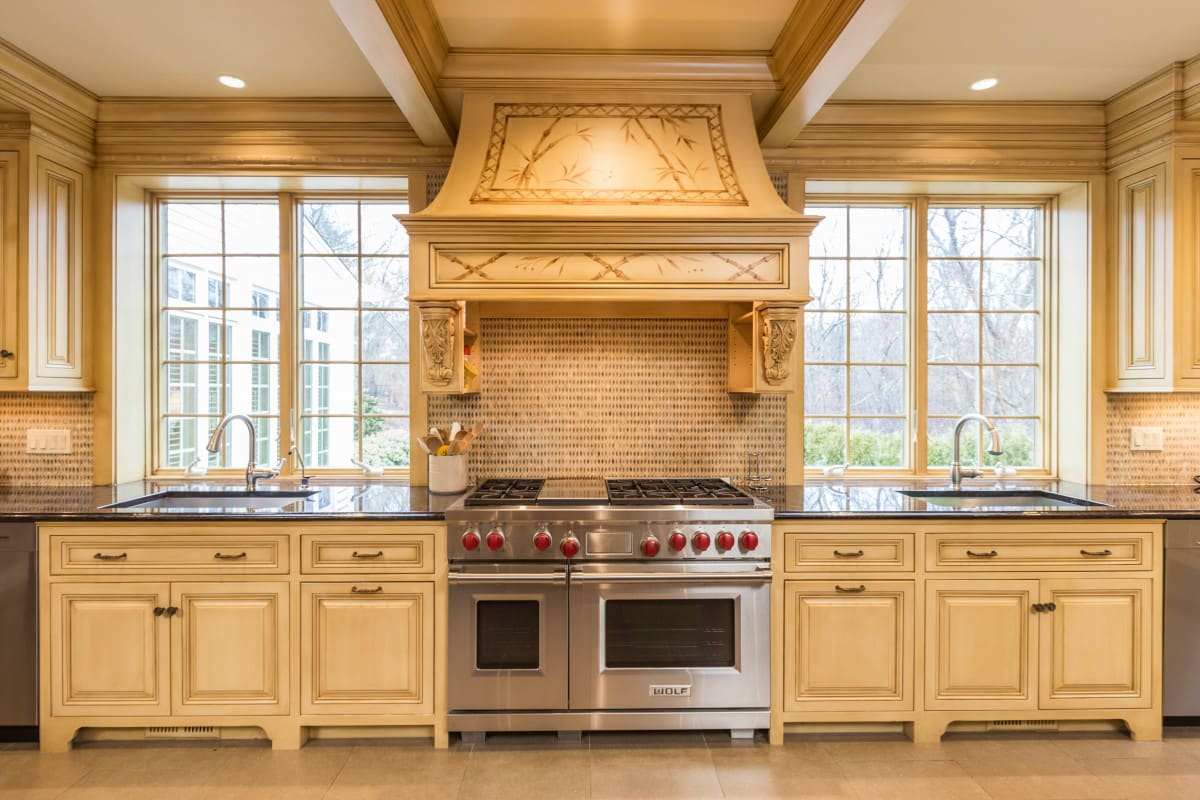 And if you do have that passion for home entertaining, then after gawking at these pictures, you'll realize this home has everything you need to become the master of the home soiree! Two wine fridges in the dining room keep the precious vino at the perfect temperature and ready to be poured!
Aside from the dining room, a family room and sunroom provide multiple places to recline after a nice big meal. Take a visual tour through these gorgeous photos and you'll start to imagine the perfect dinner party.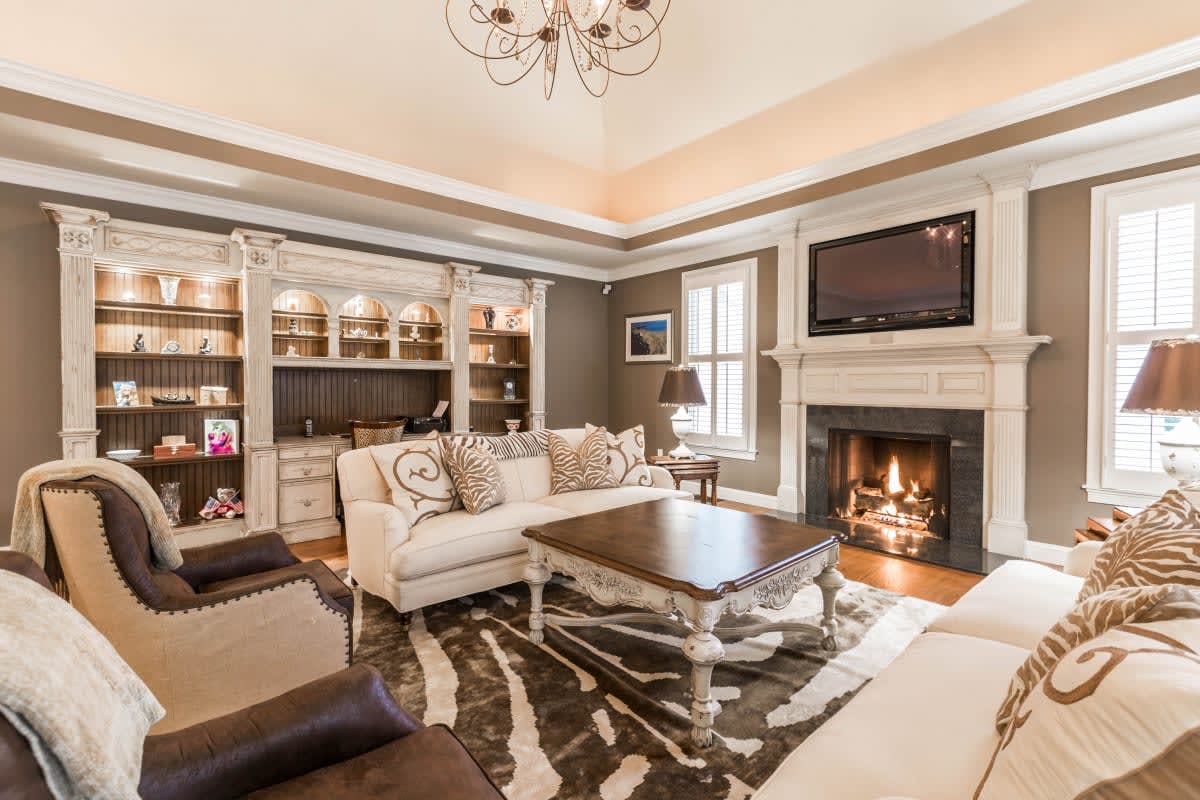 When you're really ready for fun, head down to the basement for a good old-fashioned movie night. There's yet another kitchen for entertaining, a game room, heated floors, and just a few steps into the back yard one of the best things for this time of the year- a pool!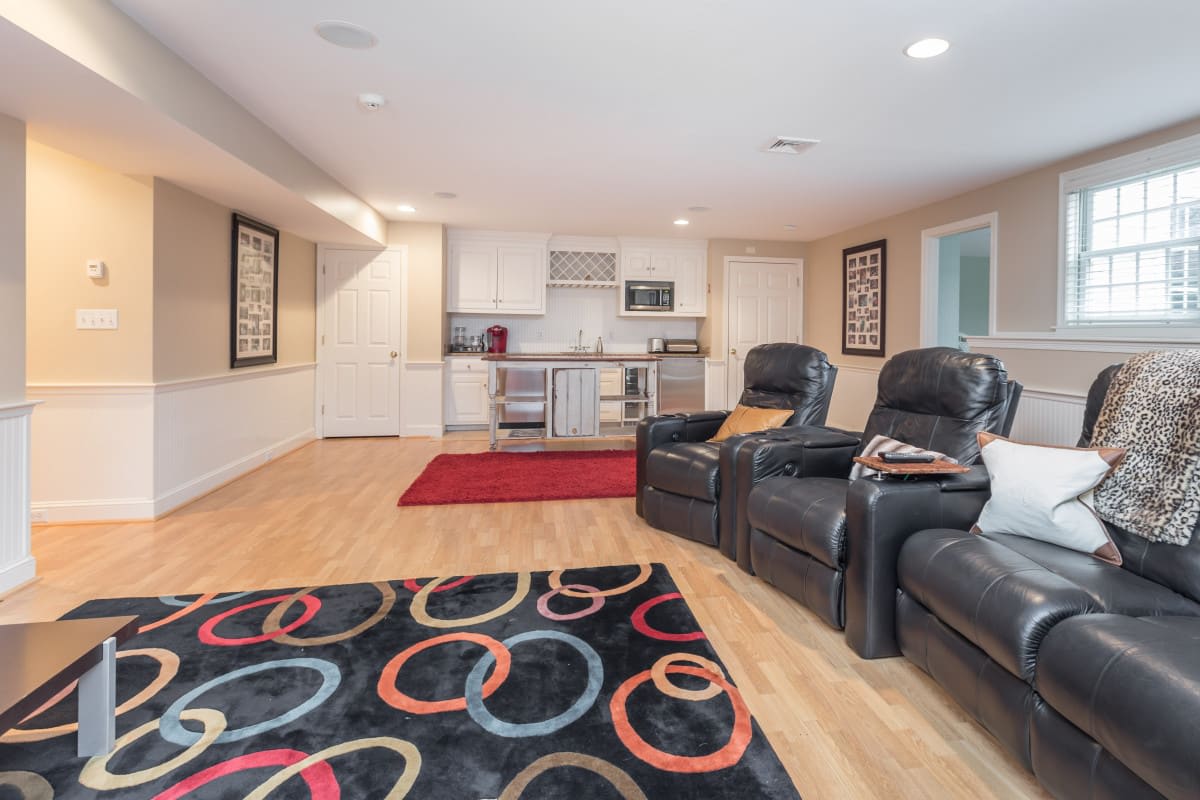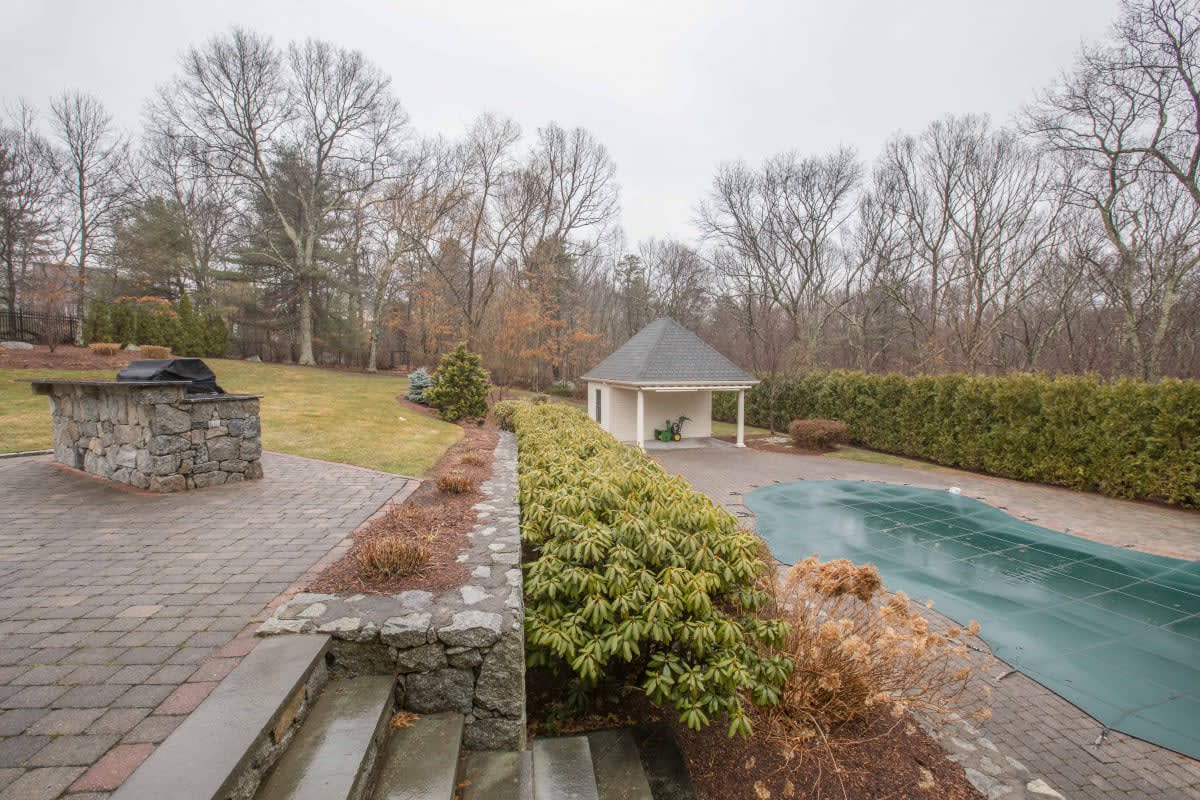 After our tour, it's no wonder listing agent, and top Boston broker, Allison Mazer of Gibson Sotheby's, tells us this custom home is a rare find- it has everything anyone could want! The care and love that went into designing and building this home are evident in every cabinet and well-placed light. The chandelier in the foyer lowers when it's ready for a quick polish – hello!
If moving chandeliers and dream closets aren't enough for you, how about this- priced at $1,750,000 it makes Boston properties seem like silly investments. (Okay, we don't really mean that.) But five generous en-suite bedrooms, six full and two partial baths, a pool house, a chef's kitchen, and gorgeous woodworking everywhere our heads turned to have us second-guessing our usual day-dreaming about a Boston condo.
Today, we're daydreaming about 53 N Mill street. We're imagining that when we're not lounging by the pool during the summer months, we would nestle cozily in front of one of the three fireplaces. But, that's only if we're not trying on our shoes and drinking bubbly in the master closet;?
Thank you to Allison Mazer for the tour of this stunning property and to Briggs Johnson Photography for these great shots! Enjoy the rest of the eye candy!
Cheers,
The Haute Life